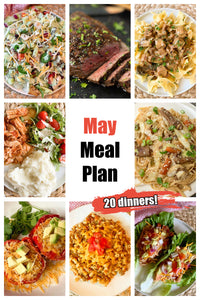 Imagine not having to decide what's for dinner or even create a shopping list for the ENTIRE MONTH! 
With this meal plan, you will receive step by step instructions on how to make 20 crock pot freezer meals including a shopping list for all the recipes so you can stock your freezer with delicious and easy freezer meals that go from your freezer to your crock pot in minutes! 
Here is the menu that you will receive with this meal plan! 
Beef Lo Mein

Jalapeño Cilantro Lime Chicken Salad

Lemon Garlic Chicken Drumstick Dinner

Balsamic Glazed Meatballs

Mexican Chicken Lettuce Wraps 

Cajun Steak Bites with Shrimp

Thai Chicken Pita Pizza

Taco Mac

Greek Style Turkey Breast

Chipotle Chicken Wraps

Easy London Broil Recipe (GRILLING OPTION!)

Lemon Herb Mediterranean Chicken Salad

Creamy Golden Beef with Noodles

Turkey Taco Stuffed Peppers

Easy Reuben Sandwiches with Russian Dressing

Paprika Pork Chops

Creamy Buffalo Chicken Tortellini

Fritos Taco Bowls

Teriyaki BBQ Chicken Recipe (GRILLING OPTION!)

Philly Chicken Cheesesteak Wraps
THIS IS A DIGITAL MEAL PLAN THAT YOU CAN DOWNLOAD AND WILL BE EMAILED TO YOU AS WELL.  THIS IS NOT A PHYSICAL PRODUCT.