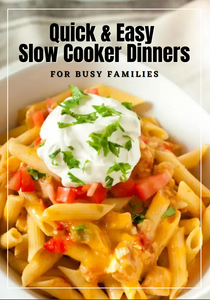 This cookbook is currently a part of a cookbook bundle deal available here at a great low price! 
https://eatingonadimecookbooks.com/easy-cookbook-bundle
THIS IS A DIGITAL PRODUCT THAT CAN BE DOWNLOADED AND EMAILED.  THIS IS NOT A PHYSICAL COOKBOOK.  
You are going to love these quick and easy crock pot recipes to help you get dinner done!  These are a variety of chicken, beef and pork recipes that can all be made in the crock pot.  These recipes are unique and not your traditional crock pot recipes!
** You will receive an email after your purchase with a link to download 50 Quick and Easy Crock Pot Recipes! Digital Cookbook. No physical copies of the ebook will be mailed. Once the purchase has been completed and email has been sent with the attachment, there will be no refunds issued.  **