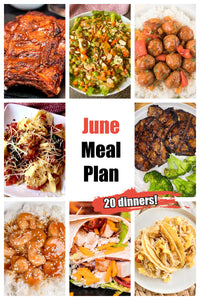 Imagine not having to decide what's for dinner or even create a shopping list for the ENTIRE MONTH! 
With this meal plan, you will receive step by step instructions on how to make 20 crock pot freezer meals including a shopping list for all the recipes so you can stock your freezer with delicious and easy freezer meals that go from your freezer to your crock pot in minutes! 
Here is the menu that you will receive with this meal plan! 
Honey Mustard Chicken Salad with Bacon and Avocado (with Grilling option)
Tamale Pie
Honey Garlic Shrimp Recipe
Easy Barbecue Chicken (GRILLING OPTION!)
Creamy Italian Tuscan Tortellini
Spicy Thai Chicken Salad (with Grilling Option)
Taco Marinated Chicken Legs
Easy Beef and Noodles
Chicken Bacon Ranch Wraps
Korean Beef Quesadillas
Soy Dijon Pork Chops (with GRILLING OPTION!)
Creamy Lemon Garlic Chicken
Chicken Stir Fry with Noodles
Cajun Chicken Wrap
Cuban Steak Enchiladas
Citrus Sweet and Sour Meatballs
Pineapple Mango Chicken Tacos
Teriyaki Steak Bites
Dr. Pepper Ribs
Mediterranean Ground Beef Pitas
THIS IS A DIGITAL MEAL PLAN THAT YOU CAN DOWNLOAD AND WILL BE EMAILED TO YOU AS WELL.  THIS IS NOT A PHYSICAL PRODUCT.